"Andy's guitar playing is like hearing the love child of Wild Jimmy Spruill and Johnny Guitar Watson after taking a guitar lesson from Ike Turner."  - Rusty Zinn
Q & A with Andy Santana
Interview by Michael Limnios
blues.gr - Athens, Greece
"You can look at blues as sort of a Zen meditation. In real life we struggle with the day to day aspects of who we are and how we present ourselves to the world at large. Living this life we deal with daily problems, the sufferings of loss, and the joys of love and happiness."
What do you learn about yourself from the blues music and culture? 
You can look at blues as sort of a Zen meditation. In real life we struggle with the day to day aspects of who we are and how we present ourselves to the world at large. Living this life we deal with daily problems, the sufferings of loss, and the joys of love and happiness. This sounds like what all blues songs written are. We express ourselves through the music we play and it releases the stress. But also we rejoice our love and happiness through playing the blues. So physically playing blues is like an active interaction of Zen like meditation. 
What does the blues mean to you?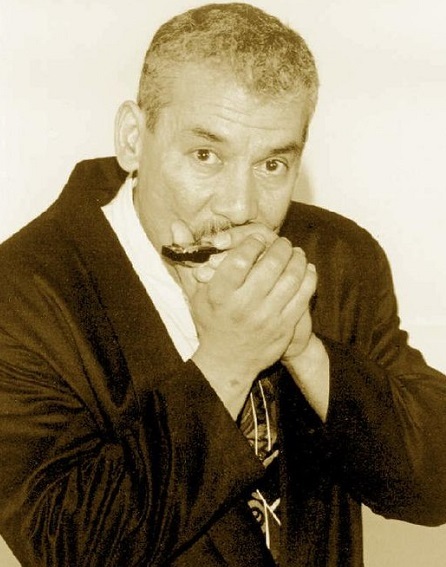 I love this question because it can mean lots of things to lots of people who play or are an audience who love the genre. Blues is a unique expression of how as an individual, we are effected by and look at life.  It's really deep and yet simple in its expression. 
"I miss the fact that many have skipped their roots and blues is watered down at times." 
How do you describe Andy Santana sound and songbook? 
In one word "eclectic". I don't have a favorite style of blues but I seem to be drawn to the New Orleans swamp sound style and the Imperial records label that produced Dave Bartholom, Fats, Smiley Lewis and sooo many more. There's King Federal and Deluxe labels that gave us James Brown, Little Willie John, Bill Doggett, Johnny Guitar Watson and more. As a harp player I was reared on Chess records with Walter and James Cotton, Jr Wells, Big Walter, Sonnyboy and the Chicago style because so many great harp players come from there. But my west coast influences with Specialty Record and all the very contagious west coast jump, is strong. But then there's Texas and all the amazing music that came from there. Memphis with its Sun and Stax records where many favorite music comes from, too numerous to mention. I have even covered a song by Bob Dylan "Ballad of a Thin Man" because his writing is so profound. Of course I did it my way but it to, is the blues. All this and much more, is where I have developed my song book.
What characterize your music philosophy?
"Good music is good music"! No matter what the style or genre although I am mostly a roots music lover. I had a valuable lesson while very young. Years ago in the early 70s I was so immersed in blues and I wasn't making room for any other music. A friend took me to see a country band as a surprise and at the time, she didn't know, I didn't like country music. On the way there she told me who was playing and I put the music down and told my friend I wasn't interested in seeing a country band. She was angry at my poor manners and for being judgmental about a band I had never seen. After I calmed her down, apologized for my poor manners we went in to the venue. When the band started and before the end of the first song, I kept asking her who are these guys as I was completely amazed at the incredible music they were playing. It happened to be Buck Owens and I'll tell you they are one of my top ten favorite bands I have ever seen. They were incredible I mean incredible!! (Read More)
CD Reviews
Andy Santana & the West Coast Playboys
Watch Your Step! 
Delta Groove Music – DGPCD170
Review by Lee Hildebrand
Andy Santana, California–based singer, harmonica blower, guitarist, bandleader, songwriter and interpreter of other people's songs—has crafted a real winner with his fourth CD in 24 years, Watch Your Step!, a collection of 13 terrific tunes that should launch him far beyond being a little-known legend on his home turf into national blues notoriety. Santana is a commanding, fat-toned harmonica player in the George Smith tradition and a tough guitarist whose staccato approach brings to mind such Texas pickers as Gatemouth Brown and Johnny "Guitar" Watson. And as guitarist Rusty Zinn (one time Santana sideman who produced three of the album's tracks) observes in his booklet notes, "His vocals totally lack affectation, but are soulfully sincere." 

Unlike so many current harmonica-led blues combos that are heavily influenced by Chicago blues, Santana delves deeply into 1950s blues and especially early R&B and rock 'n' roll, particularly of the New Orleans variety, for the songs and the styles in which they're performed. His outstanding renditions of vintage material include "Playgirl" and "Go On Fool" (both penned by Dave Bartholomew and originally recorded by Smiley Lewis), Carol Fran's "Knock Knock", Bobby Parker's "Watch Your Step", Z.Z. Hill's "One Way Love Affair", Sir Mack Rice's "Love Sickness", Chuck Willis' "Can't You See" and Al Brown and the Tunetoppers' T"ake Me Back". Not only does Santana pick great tunes, but he writes 'em, too. The strongest of his four originals is "You Smell Like Cookies", on which the composer sings: "You smell like cookies / I wanna dip you in my glass / You make me so hungry / I know I just can't last" over a relaxed shuffle beat anchored by Robi Bean's drums. 

Kid Andersen, who co-produced most of the album with Santana, surrounds the leader with some of the best blues guitar players in northern California. Besides Andersen himself, they include Anthony Paule, Mike Schermer and Bob Welsh. Andersen makes particularly imaginative use of baritone guitar on three selections. Bean, June Core and onetime Little Richard sideman D'Mar take turns behind the traps, and a rotating cast of bassists, keyboardists, horn blowers and background vocalists also play musical chairs, helping to make Watch Your Step! one of the most listenable and boldly authentic sets of old-time R&B sounds to have hit the streets in recent memory.
Andy Santana & the West Coast Playboys 
Watch Your Step!  
Delta Groove Music
Review by David Mac
Blues Junction Productions
Andy Santana is such a gifted musician it is almost scary. He has a unique voice on three different instruments, voice, harmonica and guitar. Combine that with his natural flair as a songwriter and it is virtually impossible not to have the highest admiration of this immense talent. For Andy's part he exudes a kind of laid back modesty that is often present in the true greats and yet stands in sharp contrast to his musical prowess.  (Read More)
Andy Santana & the West Coast Playboys  
Watch Your Step!   
Delta Groove Music 
Review by John Mitchell
Blues Blast Magazine
Andy Santana has been a well-kept secret in Northern California for many years. He has played in the area for some 35 years and produced several independent CDs but with his first on a national label the rest of the world now has a real chance to discover this triple threat as Andy sings, plays harp and guitar!  The CD is attributed to Andy and 'The West Coast Playboys' and that name covers a veritable who's who of talent: Rusty Zinn (who produced three tracks), Anthony Paule and Mighty Mike Schermer are among the guitarists involved, Bob Welsh, Nate Ginsberg and Lorenzo Farrell play keys and the rhythm players include Mike McCurdy and Mike Phillips on bass, Robi Bean, June Core and D'Mar on drums.  Horns appear on three tracks (Eric Spaulding and Frankie Ramos – tenor sax, Jack Sanford – baritone sax, Manny Angel – trumpet) and the whole was recorded at Greaseland Studios where producer Kid Andersen played a wide range of instruments including guitar, bass and keys.  Kid's wife Lisa Leu Andersen sings backing vocals on three tracks.  The material covers a range of R n' B, soul and blues styles with four originals and nine covers.  (Read More)
Press Quotes
"Santana is a commanding, fat-toned harmonica player in the George Smith tradition and a tough guitarist whose staccato approach brings to mind such Texas pickers as Gatemouth Brown and Johnny "Guitar" Watson." – Lee Hildebrand / Living Blues Magazine    
"What cements this album in my permanent library is one of Santana's original tunes. Why have we had to wait so long for someone to write a love song entitled "You Smell Like Cookies"? Well, it's here; enjoy it." – Steve Daniels / Big City Rhythm & Blues Magazine   
"Between the superb musicianship from one and all, the incredible arrangements and the fact that they play so smoothly together, this one should come with a warning label. This album might very well be a life-changing experience." – Reflections in Blue