"Andy's a great musician and singer. Plays a mean blues guitar. Love his material and the recording." – Billy Flynn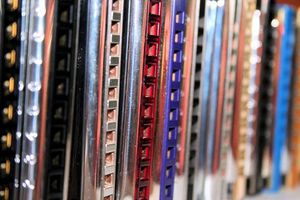 Veteran West Coast musician Andy Santana is a smooth, dynamic vocalist and harmonica player with a sophisticated urban style. With thirty five years of professional experience, he is also an accomplished songwriter/guitarist with an unusual gift for lyrics and is proficient at creating powerful melodies. 
Andy always surrounds himself with top west coast musicians.  The West Coast Playboys have been chosen as the house/backup band for many Blues legends.They include, The Jazz and Heritage Festival in New Orleans with CP Love, host band at the Bammies backing rock and roll Hall of Famer Booker T. Washington, Joe Louis Walker, the Gospel Hummingbirds and the amazing Bonnie Raitt. For 5 years running he was chosen as the host band for the Hollywood Hall of Fame Fest. There he backed legendary Chicago Blues musicians, Willie Dixon, Jimmy Rogers, Luther Tucker, Billy Boy Arnold, Freddie Robinson, Dave Myers, Cary Bell and west coast artists Rusty Zinn, William Clarke and King Ernest. 
Andy and his band were featured artists at the Santa Cruz Blues Festival backing New Orleans legend Earl King. As the host band at Moe's Alley they backed Joe Huston, Lou Ann Barton, Jimmy Thackery, Coco Montoya, Tommy Castro, Chris Cain, and Sista Monica. In addition, Andy's band backed Nappy Brown (Night Time is the Right Time) at the San Francisco Blues Fest. Andy has recorded and toured with cult legend Junior Watson and "Austin's first lady of the Blues," Angela Strehli.
Andy's latest CD, Watch Your Step!, showcases some of the best west coast musicians. Andy's eclectic roots styling has his own distinctive style and signature. Also for the first time with Rusty Zinn producing four songs, Andy showcases his unique guitar playing. Rusty says "if Jimmy Spruill and Ike Turner had a baby it would be Andy".  Andy and his talented choice of musicians, represents a philosophy of American Roots music and on Watch Your Step! it all comes together in an unforgettable way.
"Andy Santana plays the guitar exactly like I like. He has a clean precise tone that is very melodic. It is simple and to the point never losing sight of the melody just like his wonderful vocals." – Anson Funderburgh 
"Andy Santana is a local legend in Northern California, having been soulfully singing, blowing harp, playing rocking blues guitar and leading first class blues combos for four decades. Now Andy is a Delta Groove artist and hopefully the world will know what a shining star we have in the NorCal region. Show us what you got dude!" – Mark Hummel